In continuation of Unitas'blog post about supervision of data processors, we can announce that it is now possible to subscribe to the list of Microsoft (sub-) data processors.
Microsoft should first be praised for cutting back in September 2019 MARKANT on the number of their (sub) data processors. Now the list is much more manageable.
But what if changes are made to the list? Now you can subscribe to the list. Click on https://www.microsoft.com/da-dk/trust-center/privacy/data-access
Then select at the bottom of the text 'Lists of subprocessors' and click on the link 'List of…' as shown in the picture.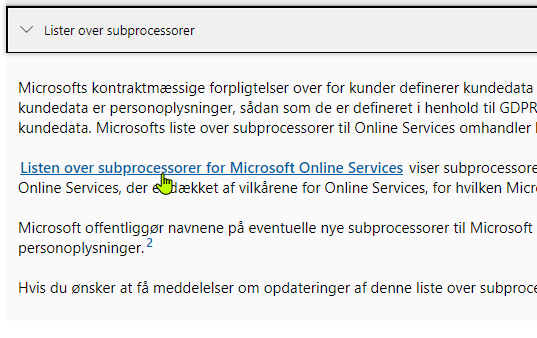 The list is downloaded directly in a PDF file, which you can open immediately…
Back in the browser, select 'My Library' at the top of the image (log in if you are asked to do so with your M365 account).
You can now choose which documents you want to subscribe to, including the famed list of sub-processors.
Click on 'Notification Settings' and specify how often you want to be notified. Voila! Thats it.